Exhibitors of past years

Exhibitors of past years
Expected Exhibitors in 2018
SNIEC Shanghai New International Expo Centre
2345 Longyang Road, Shanghai 201204, China
The Shanghai New International Expo Center (SNIEC) is China's leading expo center, boasting state-of-the-art facilities. Situated in Shanghai's Pudong district, the heart of Chinese business, SNIEC has attracted worldwide attention since its opening on November 2, 2001. Featuring a prime, easily accessible location, a pillar-free, single story structure and a wide array of expert on-site services, SNIEC has been experiencing rapid growth. It now hosts more than 70 world-class exhibitions each year and this number is set to grow in the future.
Currently, SNIEC has 13 exhibition halls with 150340square meters of indoor exhibition space and 100000 square meters of outdoor exhibition space.
Die Kitchen & Bath ist die größte und bedeutendste Fachmesse für Sanitärarmaturen in China bzw. Asien.
Der Schwerpunkt der Messe lag auf den Segmenten Sanitär und Bad. Während in 13 von 17 Ausstellungshallen die Hersteller von Armaturen, Keramik, Badewannen, Badmöbeln und Accessoires ihre neuen Produkte präsentierten, waren in den restlichen vier Hallen Hersteller von Küchenmöbeln, Spülen und Zubehör zu finden.
Welcome to the 26th edition of Kitchen & Bath China!
This exhibition aims to provide an opportunity for everybody who is interested in latest trends driving the Kitchen & Bath industries to interact with one another.
26th Edition of Kitchen & Bath China 2021 is Asia's leading trade fair for Kitchen & Bath industry.
The twenty-forth year, KBC 2021 will be staged on May 26-29, 2021 at Shanghai New International Expo Centre (SNIEC), China. KBC has been a powerful and Asia's most influential trade show that provided opportunities to many interested in latest trends in Built-in Kitchens, Kitchen Furniture, Sanitary Equipment, Valves and Fittings, since 1994.
Over 5,662 exhibitors, including market leaders from home and abroad, launch their latest products, technologies and solutions onto the world market at KBC 2017.
For four days, international trade visitors from the retail trade, end-users, decision-makers, importing and exporting companies, designers, engineers, architects meet at SNIEC fully-booked up Shanghai New International Expo Centre [200,000 m?].
The largest group of visitors at KBC is the kitchen, bath, sanitation, heating and air-conditioning installation trade [107,046 professional visitors from all over the world].
We look forward to seeing you in Shanghai New International Expo Centre (SNIEC), 2345 Long Yang Road, Pudong Area, Shanghai, 201204, China!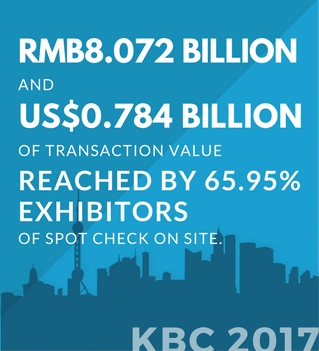 Daten & Fakten


Veranstalter: Worldwide Exhibitions Service Co., Ltd. (WES)


Messegelände: SNIEC Shanghai New International Expo Centre, Shanghai, China


Parallelveranstaltungen: Domo China; Heating, Ventilation, Boiler, Air-Conditioning, Plumbing & Water China


Gründungsjahr: 1996


Turnus: jährlich


Ausstellungsfläche: 200 000 m2


Aussteller: 5,662
Fachbesucher: 107,046
Visitors, Clients, End-users and Customers
Agency / Traders, Wholesale / Retail
55.84%
Manufacturing / Producing
34.12%
Installation Contracting / Engineering Operation
1.69%
Property Investment & Development
1.21%
Property Management
0.01%
Banking & Financial Service / Insurance
0.26%
Trade Commission / Association
0.18%
Hotels & Entertainment
0.23%
University / College
0.03%
Government Department
0.01%
About Organizer
Worldwide Exhibitions Service Co., Ltd. (WES) is the organizer of the trade show. The 1994 established enterprise has got specialization in planning, and organization large-scale international activities, such as shows, exhibitions, trade negotiation and academic symposium. WES since establishment has organized exhibitions in more that 40 different industries. It has also developed cooperation and interactive relationship with the governmental departments, non-governmental organizations, trade associations, educational institutes and scientific research institutes.
THE UNIQUE PLATFORM SHOWCASING KITCHEN, BATHROOM, INSTALLATION AND HEATING PRODUCTS

Co-located exhibitions
Domo China
Heating, Ventilation, Boiler, Air-Conditioning, Plumbing & Water China
Main Industry sectors
Furniture, Interior Design, Plumbing, Heating, Air Conditioning, Refrigeration and Ventilation Technology
Main product group
Built-in Kitchens, Kitchen Furniture, Sanitary Equipment, Valves and Fittings
Location
Shanghai New International Expo Centre (SNIEC) 2345 Long Yang Road, Pudong Area, Shanghai, 201204, China 17 exhibition halls and 3 deluxe entry lobby of a total area of 250,000m2
Opening Times
Move in: May 25, 2021 – 08:30am to 17:30pm Exhibition Time: May 26-28 2021 – 9:00am to 6:00pm 29th May 2021 – 9:00am to 3:00pm Move out: May 30, 2021 03:00pm to 12:00pm
PROFESSIONAL

AUDIENCE

107,046 professional visitors from all over the world
Participants of Last Event Came from
Hong Kong, Macau, Taiwan of China